THEY DO MOVE IN HERDS.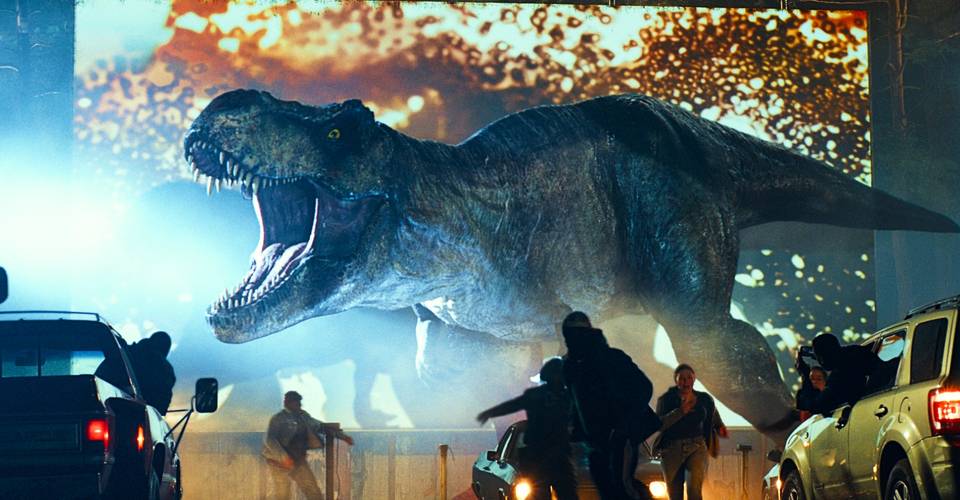 Universal Pictures has released the prologue for Jurassic World: Dominion that displays a whole host of dinosaurs, including a franchise debuting Giganatosauras!
Jurassic World: Dominion serves as the sixth installment of the franchise and takes place sometime after the earth-shattering events of Fallen Kingdom, where dinosaurs are now free, and roaming the world with humans.
The prologue offers many exciting looks at life 65 million years ago, with the highlight showcasing a battle between a Tyrannosaurus Rex and Giganotosaurus. Eagle-eyed fans will notice nods to early franchise events and see our resident dinos sporting some new feathery looks. A decision that was specifically made to ensure the film follows more paleontological accuracy. The prologue also gives us a look at life in the present day, as a T Rex runs rampant amongst unsuspecting civilians.
Chris Pratt and Bryce Dallas Howard reprise their roles from Jurassic World and Fallen Kingdom, while franchise favorites Sam Neil, Jeff Goldblum, Laura Dern, and BD Wong all return in their iconic roles. The film will see Colin Trevorrow return to the director's chair, whilst also penning the script alongside Emily Carmichael, and Derek Connolly.
Speaking about legacy characters returning, Trevorrow said:
"Being able to have our legacy characters and our Jurassic World characters together in one film to me was important because [Dominion] is as different as a film that we've ever made in this franchise. And I think when you're pushing something as far forward as we are, to have an element of it that's familiar, to have characters that you know and love venturing with you into the new space, feels crucial."
He also spoke about the prologue, saying:
"It's extremely important for me, as a storyteller, because I believe the dinosaurs are characters, and so this is the origin story for the T-Rex. I wanted it to be told, and so Universal was totally down with experimenting with sharing five minutes of a finished movie as a 'prologue' six months in advance."
Jurassic World Dominion is set to release in cinemas on June 10th, 2022.
Watch the prologue and Colin Trevorrow's breakdown of it below.
---