Gumby, the living…play-doh…slime…goo…is making a return thanks to a new deal with FOX Studios. The company is planning to launch a new animated series, live-action original content, and more to revamp the nostalgic franchise.
Gumby will not be returning alone. All of his famous friends like best friend Pokey, his parents Gumbo and Gumba, his little sister Minga, Prickle and Goo, the troublemaking Blockheads, Professor Kapp, and Denali will be getting the revamp treatment too!
If you are of a certain age you might not recognize the green "everyman." Gumby is a stop-motion clay-animation series created by Art Clokey in the 1950s. Gumby had two series – The Gumby Show from 1957-1969, and Gumby Adventures in 1988 ! He also headlined a feature film, Gumby: The Movie in 1995.
A live-action Gumby sounds weird but it's not entirely a new idea…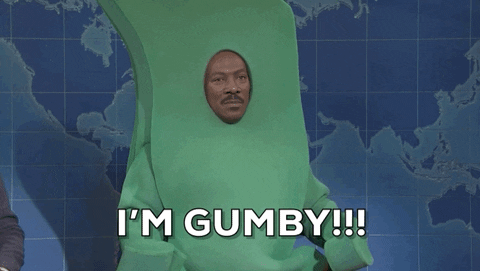 We know dear, we know. 
The Smurfs and Gumby, who's left to bring back? The Snorks?
Share what nostalgic cartoon you think deserves a reboot with us in the comments below.
---