Superhero movies have entered their very own Renaissance period in the 2010s. The DC Extended Universe (DCEU) alone has made $5.284 billion at the worldwide box office, which means the movies are just going to keep on coming. Currently, the DCEU has 5 films set for release through 2022, but there's another reason why everyone should be excited. The financial success of these movies may just lead to some more obscure DC comic characters popping up on the big screen, too.
So if you're a huge fan of the comics or just want to learn about the more interesting characters on print, we've gathered 5 of our favorite little-known DC comic book characters below:
Space Cabbie
Have you ever wondered what Uber or Lyft would be like in space? Well, wonder no more. You may have come across the character in Hal Jordan and the Green Lantern Corps #15, but Space Cabbie has been around for way longer than that. Space Cabbie first appeared in Mystery in Space #21 published back in August 1954 in a story written by Otto Binder and drawn by Howard Sherman. He mainly functioned as a ferry for anyone who wanted to venture through space — well, anyone who could pay, that is. The most recent iteration of the character has him as Green Lantern Guy Gardner's underworld informant.
Bibbo Bibbowski
An everyman in every sense of the world, Bibbo first appeared in Adventures of Superman #428 back in May 1987. In his first appearance, readers witnessed Bibbo mistakenly punch Superman as he thought he was an impostor. Despite the rocky beginning, Bibbo ends up becoming Superman's self-proclaimed #1 fan. He becomes a more significant part of the comics when he wins the lottery and purchases the now-iconic Ace o' Clubs bar. Now, the amount he won is unclear, but today's lottery jackpots listed by Lottoland range from $60,000 for Multi Keno to $53 million for the US Powerball. These amounts are no joke and obviously served a good purpose in Bibbo's hands. But despite his newfound wealth, Bibbo has pretty much remained the same and happily runs his bar. In fact, Looper points out that Bibbo even makes a cameo in the 2017 Injustice 2, as one of the video game's stages features the Ace o' Clubs with Bibbo at the bar watching heroes duke it out.
Mister Mxyzptlk
You'd be forgiven if you've never heard of Mister Mxyzptlk, which is pronounced "miks-yez-PIT-əl-ik," as the character goes all the way back to Superman #30 released in October 1944. First introduced as a trickster from the 5th Dimension with reality-warping powers, Myxzptlk is one of the oldest — and to some fans, the best — villains that Supes has ever faced. Originally, the only way to beat Mxyzptlk was to either get him to say or spell his name backward, but this would only get rid of him temporarily. The only thing holding him back is his playful personality as he never really tries to harm Superman, opting to mess around with him instead. This makes him more of a nuisance than an actual threat, but is no less interesting for it.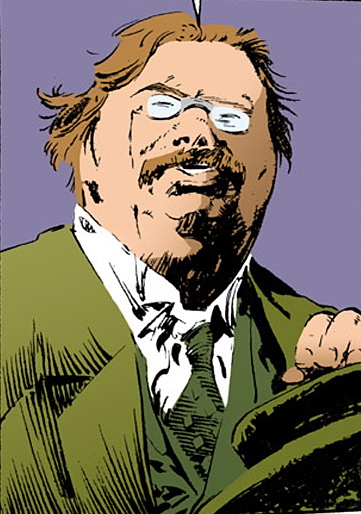 Fiddler's Green
Neil Gaiman's Sandman series is full of memorable and mostly unknown characters, one of which is Fiddler's Green. Fiddler's Green isn't even a character, but a sentient space that takes on the form of a stout man that closely resembles author G.K. Chesterton. This was mostly Gaiman's doing, as he has quite the affinity for Chesterton. Having first appeared in Sandman Vol. 2 released back in November 1989, Fiddler's Green is a place in the fictional dream world that all travelers hope to one day find.
Frankenstein
Last but not least is a character familiar to many, but probably not within the context of the DC Universe. Frankenstein is based on Mary Shelley's Frankenstein monster, one of the world's most beloved creatures in literature. Like Shelley's version, Frankenstein is an undead body that has been reanimated. He first appeared in Detective Comics #135 and has since shared the page with characters like Constantine as a member of the Justice League Dark team. Frankenstein possesses superhuman strength and is functionally immortal, which means he does not need to eat, sleep, or breathe.
---