Let's be honest with ourselves. There's not a lot of quality horror being showcased on television these days. Even prior to the start of Halloween. Most of what is being shown are just watered versions of their formal theatrical glory.
Thankfully, the streaming platform Shudder has been killing it with its original horror films and shows that have been debuting throughout the year. And I have to say, there's nothing like coming from work and finding a gruesome, bloody film to watch. Some dare I say even rival the current classics like Halloween, which is a part of the platform's current collection.
Let's check out a few of my favorite Shudder films and shows:
Host
I absolutely loved this film. It's such a simple scary concept that was pulled off perfectly. I mean, try watching it alone on Halloween. It's also a Shudder original. This list consists of a few of those, actually.
Shudder Synopsis: Six friends get together during lockdown for their weekly zoom call. It's Haley's turn to organize an activity and instead of a quiz, she's arranged for a Medium to conduct a séance. Bored and feeling mischievous, Jemma decides to have some fun and invents a story about a boy in her school who hanged himself. However, her prank gives license for a demonic presence to cross over, taking on the guise of the boy in Jemma's made-up story. The friends begin noticing strange occurrences in their homes as the evil presence begins to make itself known, and they soon realize that they might not survive the night.
The Beach House
I haven't traveled to the beach in so long and after watching this film, I'm not sure I'm going to. Reminiscent of Slither, but with a more serious and less comedic take.
Shudder Synopsis: Escaping to his family's beach house to reconnect, Emily and Randall find their off-season trip interrupted by Mitch and Jane Turner, an older couple acquainted with Randall's estranged father. Unexpected bonds form as the couples let loose and enjoy the isolation, but it all takes an ominous turn as increasingly strange environmental phenomena begin to warp their peaceful evening. As the effects of an infection become evident, Emily struggles to make sense of the contagion before it's too late.
Haunt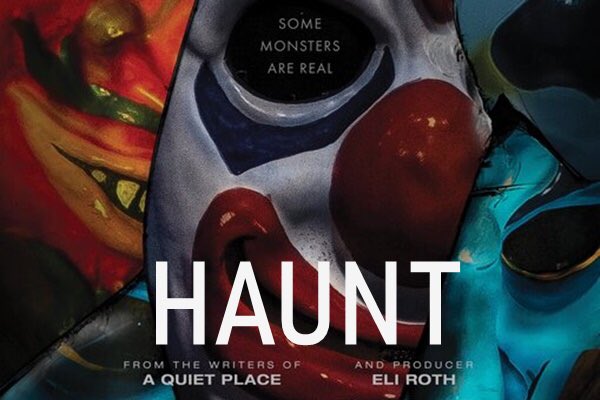 Haunt was an incredibly good film and I can't believe I found out about it so late in the game. It's another film that I would highly suggest viewing on Halloween night. Just, you know, don't visit any haunted houses after viewing.
Shudder Synopsis: On Halloween, a group of friends encounter an "extreme" haunted house which promises to feed on their darkest fears. The night turns deadly as they come to the horrifying realization that some nightmares are real.
Hell House LLC
Honestly, I'm still trying to decide how I feel about the Hell House Series. In my opinion, it's not the best found-footage film out there, but it is rather enjoyable.
Shudder Synopsis: In this found-footage gem, a documentary crew visits the site of a haunted house attraction whose opening night ended with 15 unexplained deaths. Eventually, the crew comes across a surviving employee who has footage that shines a scary light on what really went down that night. As we watch those ill-fated thrillseekers shuffling through the horror house, the knowledge of what's about to happen makes for a squirm-and-scream-inducing good time. Dread Central called it "a perfect fright flick for the Halloween season" which features "one of the creepiest clowns to appear in a horror movie in a long time." Sorry Pennywise!
Creepshow – Series
I love anthology series and Creepshow does it so well in this current entry. I simply cannot wait until season two. Creepshow was actually one of the original shows that I watched on Shudder before deciding to keep my membership.
Shudder Synopsis: CREEPSHOW, the new anthology series based on the 1982 horror/comedy classic, is still the most fun you'll ever have being scared! A comic book comes to life in a series of twelve vignettes over six episodes, exploring terrors from murder to the supernatural and unexplainable. Haunted dollhouses, werewolves, murderous goblins, villainous trick-or-treaters, the dead, and medical marvels are just a few of the things to watch out for in this new series. You never know what will be on the next page…
Revenge
Revenge was the second thing that I watched on Shudder before deciding to keep my membership. I enjoy a good revenge flick and that's exactly what this film delivers. There are some scenes, I have to say, that made me cover my eyes.
Shudder Synopsis: Jen is enjoying a romantic getaway with her wealthy boyfriend, which is suddenly disrupted when his sleazy friends arrive for an unannounced hunting trip. Tension mounts until the situation abruptly– and viciously– intensifies, culminating in a shocking act that leaves Jen left for dead. Unfortunately for her assailants, Jen survives and reemerges with a relentless, wrathful intent: revenge. A white-knuckle tale of transgression and transformation, REVENGE gloriously blurs the lines of vengeance and survival while delivering a ferocious dissection of gender and genre. Director Coralie Fargeat announces her stunning arrival, painting a crimson canvas of hypnotic beauty and bloody retribution in this razor-sharp feminist subversion of the revenge-thriller. A SHUDDER ORIGINAL.
---