Here on Fandom Spotlite, we like to pride ourselves as experts on all things Fandom. That includes being able to help you during times of need. What's more difficult than trying to decide what to buy someone? Calculus, maybe? Cue the Fandom Spotlite Gift Guide, where we help you with gift suggestions for different fandoms/genres.
For this edition, we will be focusing on Star Wars Fans! Whether they love the dark side, the light side, or even the grey side, we have something for everyone.
Star Wars Special Edition Wireless Mouse – $13.99
Be dark side inspired. With the dark side of the Force at your fingertips, the galaxy will fear the power you command. The Sith-themed design makes this the one wireless mouse no one can ignore. This wireless mouse is compatible with Microsoft Windows XP/Vista/Windows 7/Windows 8/ Windows 10. This is a great gift for any Star Wars fan working from home.
Star Wars™ Instant Pot® Duo™ Mini 3-Qt. Pressure Cooker, BB-8™ – $79.95

From astromech and protocol droids to hungry X-Wing pilots, the members of Resistance are raving about this special edition Star Wars™ Instant Pot. A tribute to the lovable BB-8™, the mini-sized kitchen essential offers a whopping seven functions, expertly handling everything from pressure cooking, sautéing and slow cooking, to making yogurt. An advanced microprocessor speeds up cooking duration by two to six times while using 70% less energy than average. Consider this gift for the Star Wars fan who does all the cooking on Life Day.
Stitch Shoppe By Loungefly Ewok Village Sandy Skirt – $80.00

This skirt will have your Star Wars fan saying Yub Nub! The cotton blend skirt features Star Wars' iconic Ewok village in a classic forest scene printed throughout the swing skirt. Also, it has pockets!!
Star Wars: Secrets of the Galaxy Deluxe Box Set – $59.90

The secrets of the Star Wars galaxy have been recorded in a series of handbooks and guides created and kept hidden by the Jedi Order, the Sith, the Bounty Hunters Guild, and the Empire itself. With this Secrets of the Galaxy Deluxe Gift set, you can give the Star Wars fan in your life knowledge. Knowledge is power and power can lead you to…well you know the rest.
Star Wars Tech 20″ Spinner – $71.99


You may not be able to travel to Walt Disney World's Galaxy's Edge right now, but someday it will be safe to travel again. Why not prepare for that day with the perfect carry-on? Featuring Star Wars vehicles of every shape and size, the Star Wars Intergalactic 20-inch expandable spinner by American Tourister will get all your park purchases home safely.
Baby Yoda Star Wars Drop Earrings – $8.50
Whether you love him or hate him, how can anyone hate him, Baby Yoda is the breakout star of Disney+ 's The Mandalorian. These earrings from FemmeDeBloom capture his adorable essence. This gift will make a perfect stocking stuffer for you or someone you love.
Star Wars Glass Set – Death Star – Collectible Gift Set of 2 Glasses – 10 oz Capacity – $24.99
This year has been incredibly stressful. Sometimes the Star Wars fan in your life may want to unwind and have a drink. Now they can drink in style with this set of Death Star glasses. They are perfect for wine, whisky, and even blue milk. Bring a little extra class to the dark side.
The Child Clogs for Adults by Crocs – $54.99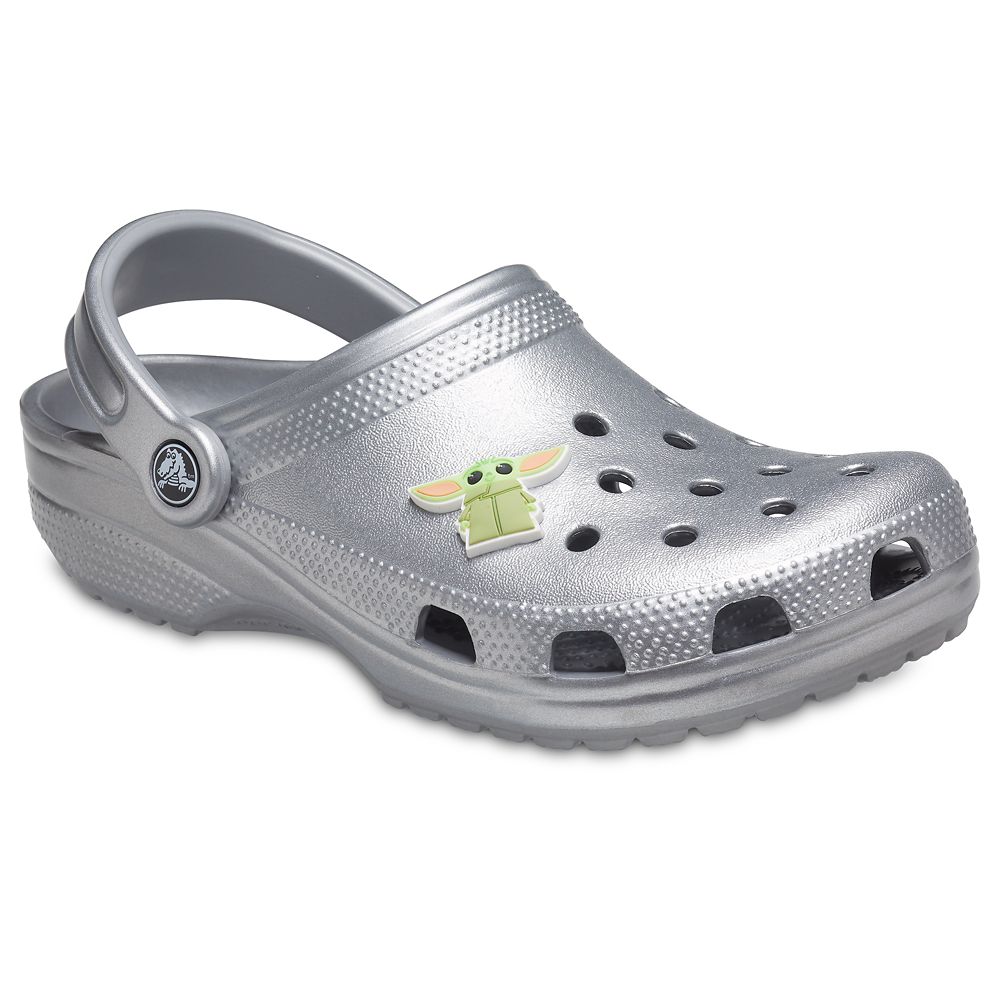 Journey through the galaxy in comfort with this epically fashionable footwear. The silver design of these clogs for adults by Crocs is inspired by Star Wars: The Mandalorian and accented with a vinyl charm of the Child. You can also purchase additional charms for even more fandom love. Fashion and function, you can't beat that.
That completes our gift guide for Star Wars fans! Will any of these be making your list? Let us know in the comments and on our social media platforms.
---